After graduating in clarinet,
Simone Mauri
approached improvisation specializing in the use of bass clarinet. He is currently working in various ensembles he has performed with both in Italy and abroad, joining musicians like Lester Bowie, Claudio Fasoli, Mario Arcari, Tiziano Tononi, Stefano Bagnoli, Keith & Julie Tippet, Gabriele Mirabassi, Chris Cutler, Gianluigi Trovesi, Beppe Caruso, Paolo Botti,Giovanni Falzone, Ferdinando Faraņ, Gabriele Coltri, Anne-Lise Foy and others....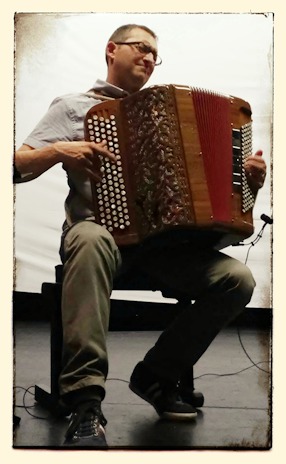 Flaviano Braga
has been playing his accordion since he was six, studying with Eugenia Marini.
During his concert activity he has worked with various musicians like Marco Detto, Stefano Bagnoli, Marco Ricci,
Max De Aloe, Claudio Taddei, Antonio Canales, Oscar de Los Reyes, Eugenio Finardi.
He has played in lots of Festivals in Italy, Switzerland, France, Spain, Germany, Czech Republic and he has been
on tour twice in Japan, performing in the most prestigious theatres in the country such as "Tokio Bunka Kaikan",
"Kobe Kokusai Kaikan", "Royal Festival Hall Osaka".
H O M E